Fencing Solutions
At P&K Visser Fencing, we offer a wide range of exceptional fencing solutions tailored to meet your unique needs. With our expertise and dedication to quality, we are committed to providing you with the best fencing options available.
Fencing Solutions in Melbourne, Gippsland, and Surrounding Areas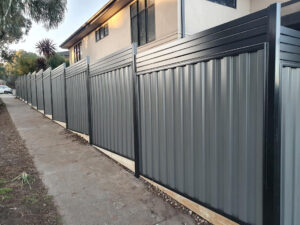 When it comes to securing and enhancing your property, investing in quality fencing is a wise decision. We proudly serve Melbourne, Gippsland, and the surrounding areas with our exceptional fencing solutions. With our extensive experience in the industry and a commitment to delivering excellence, we understand the unique needs of properties.
Our Range of Fencing Solutions
Discover the variety of fencing solutions we offer, each tailored to meet your specific needs and preferences:
Colorbond Fencing
Our durable and low-maintenance Colorbond fences come in an extensive range of colours, ensuring a perfect fit for any property while requiring minimal upkeep.
Aluminium Slat Fencing
Achieve a modern and sleek look with our aluminium slat fences, providing privacy while allowing for airflow and abundant natural light that enhances your outdoor space.
Steel Tube Fencing
Combining strength and versatility, our steel tube fences offer the ideal balance between security and style, making them a popular choice for both residential and commercial properties.
Pool Fencing
Our pool fences are designed to meet safety regulations, effectively securing the pool area and preventing unauthorised access, ensuring the well-being of children and pets.
Colorbond Fence Extensions
If you require additional privacy and security, our Colorbond fence extensions are the perfect solution, allowing you to easily extend the height of your existing fence.
Fence Replacement
Whether you need to update or upgrade your current fence, our expert team provides reliable fence replacement services, ensuring a seamless transition and a refreshed appearance.
Why Choose Our Fencing Solutions
When it comes to your security fencing needs, we stand out from the crowd. Here's why you should choose us:
Reliable Service:

We pride ourselves on delivering exceptional service, from initial consultation to final installation, ensuring your complete satisfaction every step of the way.

Competitive Prices:

We offer competitive pricing without compromising on the quality of our products and services, making it easier for you to achieve the fencing solution you desire within your budget.

Customer Satisfaction:

Your happiness is our ultimate goal. We go above and beyond to understand your unique requirements and provide tailored fencing solutions that meet and exceed your expectations.

Expert Advice:

Our knowledgeable team is always ready to provide expert guidance and advice, helping you make informed decisions about the best fencing options for your property.

Free Measure and Quotes:

Take advantage of our complimentary measure and quote service to receive an accurate assessment of your project's scope, enabling you to plan accordingly and make well-informed choices.
Contact Our Fencing Experts Today!
To explore our comprehensive range of fencing solutions, visit our services page. Discover the perfect fencing option that suits your needs, and take the first step towards securing and enhancing your property.
Fill out our contact page to get personalised assistance and a free quote. Our team is eager to assist you in achieving the fencing solution that exceeds your expectations.