Colorbond Fencing
Having been approved installers of Colorbond products for more than 40 years, we have extensive experience in the design and installation of fences and decorative elements with a large range.
Colorbond Steel Fencing in Melbourne and Gippsland Areas
Our fences are constructed using Colorbond steel, renowned for its strength and longevity. Colorbond steel sheets are expertly fashioned into stylish and robust fence panels, offering both security and visual appeal.
These panels are supported by sturdy steel posts and rails, forming a seamless barrier around your property.
Benefits of Colorbond Fencing for Your Property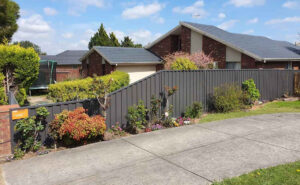 Durable Materials

: Colorbond steel is designed and manufactured to withstand the harshest weather conditions. It's built to last, ensuring your investment pays off for years to come.

Enhanced Privacy

: Its sleek, unbroken design and absence of footholds not only enhance your property's aesthetics but also serve as an effective safeguard against unwanted intrusions.

Extensive Colour Range

: Choose from a wide range of colours to match your property's aesthetic. The Colorbond colour palette ensures you find the perfect shade to complement your home or business.

Low Maintenance

: Colorbond fencing offers a strong, durable and low-maintenance solution for both home and business installations which requires minimal upkeep.

Manufactured In-House: Our fencing solutions are produced in-house, ensuring quality and control at every stage of the manufacturing process.
Colorbond Fencing Installation
Our expert team offers a wide array of Colorbond fencing options, including plain Colorbond fencing, decorative Colorbond fencing with lattice, decorative steel fencing, and compound fencing, along with complementary designs.
The extensive choice of colours and styles ensures endless possibilities for your fencing project. Rest assured, Colorbond products, once installed, demand minimal maintenance.
Colorbond Fencing Extension and Repair Services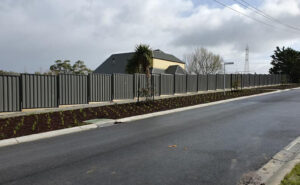 The inherent modularity of colorbond fences simplifies both extensions and repairs when compared to the conventional timber fencing alternatives.
Explore our comprehensive range of services for all your fencing extension and repair needs.
Applications of Colorbond Fence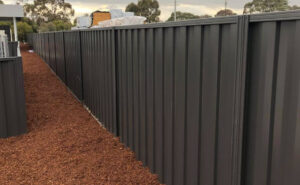 The Colorbond fence's versatility, durability, and aesthetic appeal make it a sought-after choice for various residential and commercial applications, offering both functional benefits and an attractive appearance.
Boundary Fencing

: Colorbond steel fencing is commonly used in residential areas to mark property boundaries. Its sleek design and durability enhance the overall look of the property while providing privacy to homeowners.

Privacy Screens

: Colorbond steel fencing serves as an effective privacy screen for residential yards, patios, and gardens. Its seamless panels create a secluded and peaceful outdoor space shielded from prying eyes.

Garden and Landscaping

: Colorbond steel fence acts as an attractive backdrop for gardens and landscaping projects. It complements the natural surroundings and requires minimal maintenance.
Security Fencing

: Commercial properties often use colorbond fencing as a security measure. Its sturdy build and sleek appearance create a professional and secure perimeter for businesses.

Site Enclosures

: Construction sites and industrial facilities employ colorbond steel fences to enclose and secure their premises. It withstands tough conditions and serves as an effective boundary marker.

Retail Establishments

: Retail spaces use colorbond fencing for both security and aesthetics. It can enhance the visual appeal of the storefront while offering protection against unauthorised access.

Office Complexes

: Office complexes and corporate campuses benefit from Colorbond Fencing's low maintenance and secure properties. It adds a polished look to the office environment while ensuring safety.

Outdoor Commercial Spaces

: Restaurants, cafes, and event venues use colorbond steel fencing to define outdoor seating areas and create a pleasant atmosphere. Its design complements the outdoor aesthetics while providing privacy and protection.
Why Choose Our Colorbond Fencing?
Expert Advice and Assistance

: Our team of experts is at your service, offering invaluable advice and assistance. Whether you're unsure about design choices or need guidance on installation, our knowledgeable professionals are here to help.

High-Level Customer Service & Communication

: We are committed to providing a superior level of customer service and communication. From the initial design discussions to the final installation, we keep you informed and involved, ensuring a smooth and hassle-free experience.

Premium Colorbond© Steel and Materials

: Trust in our use of premium Colorbond© Steel and high-quality materials. We prioritise the use of top-notch components to guarantee a fence that not only enhances the aesthetics of your property but also stands the test of time.
Contact Our Experienced Fencing Experts Today!
Ready to improve your property's aesthetics with colorbond steel fencing? Check out our service page for a comprehensive range of options.
To receive a personalised quote or if you have any questions, fill out our contact form for a free quote. Let us transform your property today!